Hunter Pistol
Hunter Pistol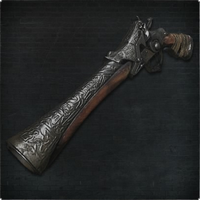 Statistics
The Hunter Pistol is one of the Weapons in the game Bloodborne.
Description
Pistol made at the workshop, for hunters stalking beasts.
Hunter firearms are specially crafted to employ Quicksilver Bullets fused with the wielder's own blood, boosting damage against beasts.
The pistol is a quicker draw than the blunderbuss, allowing for speedier responses to attacks.
See also